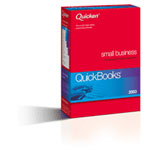 QuickBooks Small Business
QuickBooks is organised around the way you run your business, so it's easy to learn and use. You'll only have to enter information once-after that, QuickBooks memorises and pre-fills your information for you.
Get started quickly. QuickBooks doesn't require any special accounting knowledge-the EasyStepTM Interview gets you set up quickly and tailors the program to your needs. And now it's easier than ever to navigate through QuickBooks and finish your accounting tasks quickly.
Cover your accounting basics. QuickBooks tracks all your financial information, from invoices and bills to inventory and purchase orders. Track who owes you money and what you owe. You can print checks, invoices, and more-or get paid faster by e-mailing invoices directly to your customers from within QuickBooks.
Instant access to your information, the way you want to see it. Once you get started, QuickBooks has over 100 reports and graphs provide an overview of your business at any time. When you need in-depth information, you can navigate between financial details and a summary report in just one click.
For more information and prices, please click here or call (65) 6252-8276 to contact our sales.