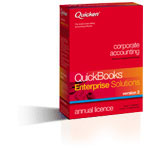 QuickBooks Enterprise
Offers growing businesses the most comprehensive set of business management tools, including increased capacity, multi-company, multi-currency and better tools to manage growth.
QuickBooks Enterprise Solutions is a new version of the best selling QuickBooks range. The new QuickBooks Enterprise Solutions has been specifically designed for businesses with 20 to 150 employees looking for an enterprise business solution.
Because it maintains the familiar QuickBooks user interface and design, the software is a Quicken.easy step up for growing businesses. No need to dread the upgrade to a solution that's hard-to-use, requires retraining of staff and can make a serious dent to your pocket.
Enterprise Solutions includes all the functionality of QuickBooks Pro and now extends to include:
Multi-user capacity for medium sized businesses
Now, up to ten employees on networked computers can edit the same company file at the same time. Support the growth of your business with higher items, customers, suppliers and employee list limits.
Multi-company reporting
Parent companies and head offices with QuickBooks Enterprise Solutions can now combine reports to pull company data from subsidiaries, divisions, or branches.
Multi-currency accounting
If you purchase or sell goods and services overseas, you can use the new multi currency feature to create sales receipts, invoices, adjustment notes, estimates and sales orders in foreign currencies; plus enter and pay bills from foreign suppliers.
Multi-site and remote workers
Now you can manage the growth of your multiple locations by ensuring that you all have the flexibility to use QuickBooks Enterprise Solutions. Connect your multiple locations and remote workers using the third-party software of Remote Desktop Access in Windows XP Pro.
Improved reporting performance to save you more time
Faster generation of standard Balance Sheet, Profit and Loss by Job, and Income by Customer reports.
New Financial tools to help your business achieve better results
Can help you quickly create a business plan to use when trying to secure a small business loan or line of credit or to plan for the future.
More Integration with business management applications
QuickBooks Enterprise Solutions now integrates and shares data with a growing number of business applications developed specifically for your business.
For more information and prices, please click here or call (65) 6252-8276 to contact our sales.