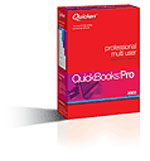 QuickBooks Professional
QuickBooks Pro includes all the basic accounting functionality included in QuickBooks with the capability to handle larger businesses requirements. We have added additional features to help you become even more productive.
QuickBooks Pro is for you if:
You want everything in QuickBooks 2002, plus:
Multi User Ready ( 5 max)
Multi User allows more than one person to use QuickBooks Pro at the same time. Run your reports while your employees pay bills or have two people enter invoices at the same time.
Estimating
Create estimates and then turn them instantly into invoices with a mouseclick. You can produce progress invoices by date, milestone or percentage.
Time Tracking
Enter employee hours on weekly or single activity forms. Time information flows automatically to invoices. Never enter information twice. On-screen timer program allows you to easily record time spent on jobs.
Job Costing
See job profitability 11 different ways. Your estimates, invoices, timesheets and expenses all flow to reports. Compare estimates Vs actual costs so you know exactly how much money you are making and where.
Multi-currency accounting
If you purchase or sell goods and services overseas, you can use the new multi currency feature to create sales receipts, invoices, adjustment notes, estimates and sales orders in foreign currencies; plus enter and pay bills from foreign suppliers.
For more information and prices, please click here or call (65) 6252-8276 to contact our sales.